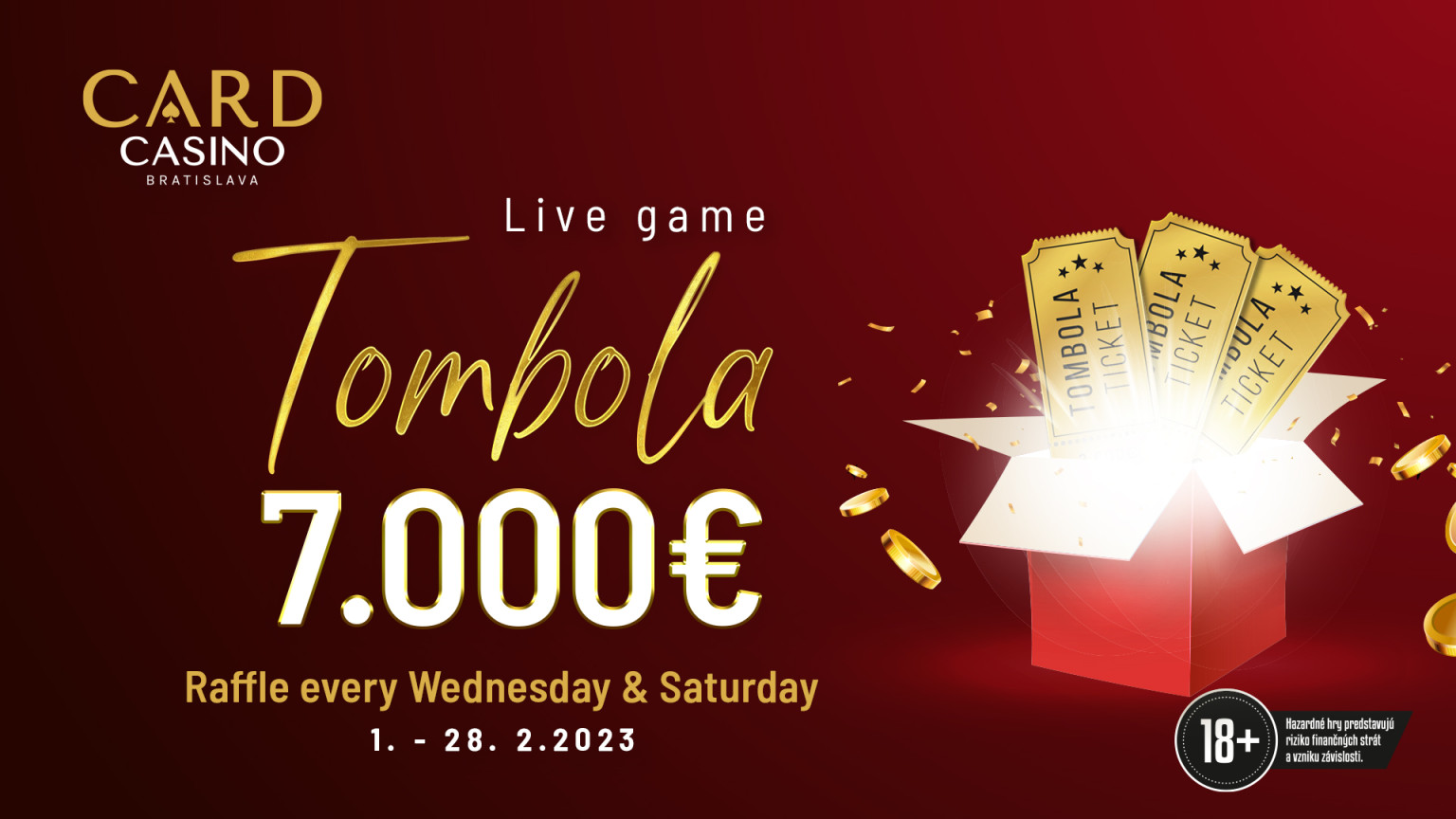 Live game raffle will give to our players prices for 7000 EUR out.
February events in Card Casino Bratislava promise, as usual, for our guests amazing wins and rewards, just like the popular Live game raffle.
How to play and win the Live game raffle?
Our guests, who play actively at our live game tables will receive the raffle tickets.
The draw will take place on Wednesday and Saturday (4.2., 8.2., 11.2., 15.2., 22.2., 18.2., 25.2.).
The drawing will contain the winnings in total value of 7000EUR, which will be distributed as follows :
1. 200€ Lucky chips
2. 200€ Lucky chips
3. 200€ Lucky chips
4. 200€ Lucky chips
5. 200€ Lucky chips
How to get the most tickets for the raffle? The condition is, of course an active gaming. This applies to American roulette, Ultimate, Blackjack and Poker as well.
On roulette, players win one raffle ticket when repeating the winning number. This refers to our roulettes number 3 and 4.
On Ultimate, players win one raffle ticket ticket if they get the poker win or higher.
When playing Blackjack, players receive one raffle ticket for the first three cards of the same type on one box. Split is also counted, for example: 3, 3, 3, J, J, J, …
In the Baccarat game, the player receives one raffle ticket for winning the Tie bet.
The live game raffle ticket is possible to win for our Poker players as well. Each winner of our tournament, just like runner-up, so the second one in order, will get a raffle ticket. The raffle tickets will be ready for the players, who will get 3 re-buys in one tournament as well.
You can find all the informations, not only about the live game raffle, but also about other events at Card Casino Bratislava at www.cardcasino.sk, at our social networks and also by asking our staff in the biggest casino in Slovakia.