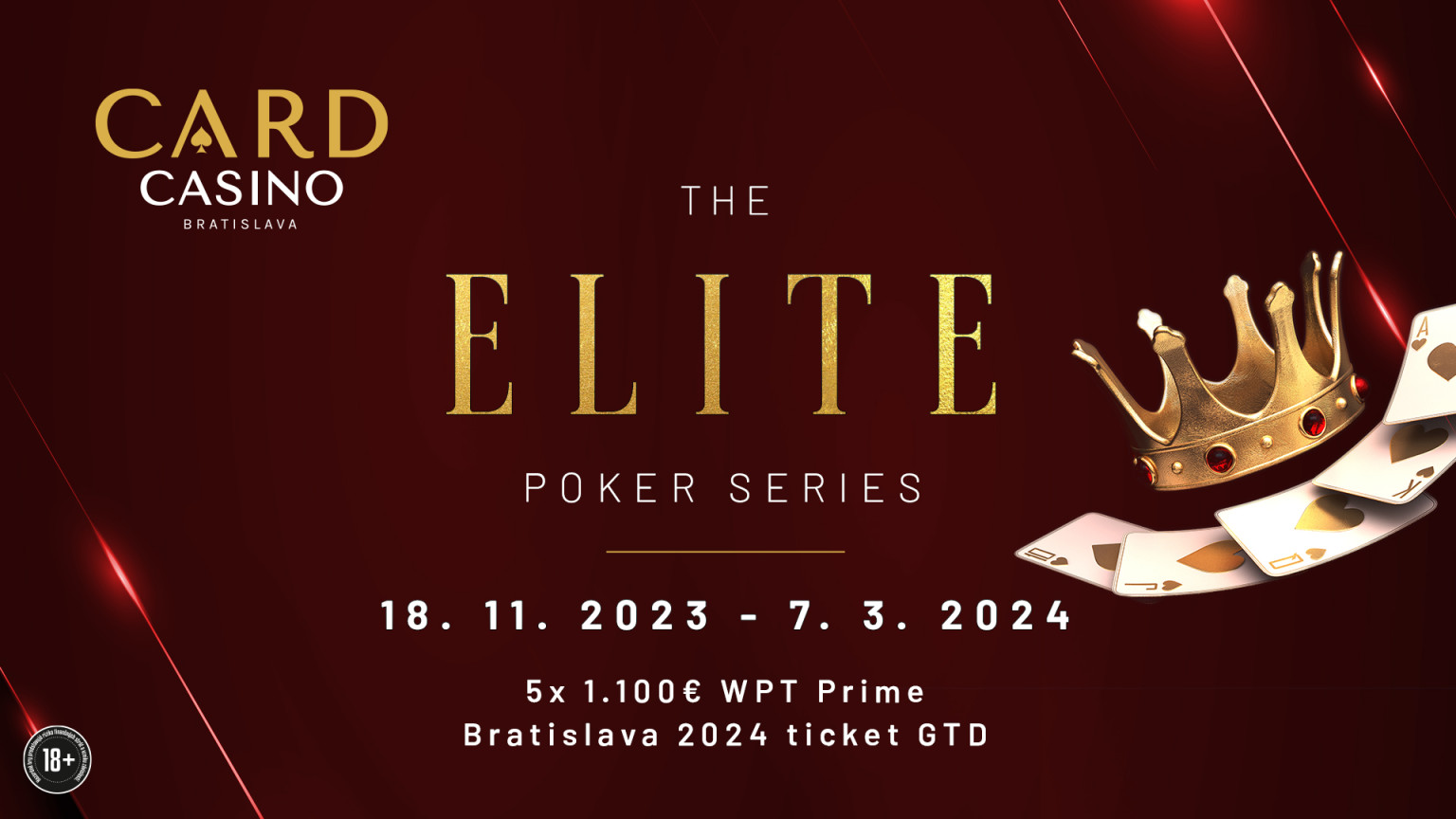 New ELITE Series for 5 WPT entries starts mid-November!
Attractive tournaments with a great guarantee, but also subsequent opportunities to advance to world tournaments. All this is offered to poker players by Card Casino Bratislava. One and the other is connected with the ELITE series, the second edition of which starts on November 18th.
For a few months from spring to autumn, progressive players collected points and won thousands of euros in the first Elite Series, which culminated in the first half of November, and just a few days later the 2nd season of the series starts.
The new ELITE Poker Series will play out on November 18 and run until March 7, 2024.
A 3% deduction from the Leaderboard prize pool will occur from each €120 buy-in, €50,000 GTD Elite Poker Series tournament. At the end of the Leaderboard, the top-placed players will receive a €1,100 ticket to WPT Prime Bratislava 2024.
The number of winning tickets depends on the total amount collected at the end of the league. However, a minimum of 5x €1,100 tickets are guaranteed.
For each entry into the tournament, the player will receive 3 points in the Leaderboard, the distribution of points is as follows:
16. Miesto - 5 points
15. Miesto - 6 points
14. Miesto - 7 points
13. Miesto - 8 points
12. Miesto - 9 points
11. Miesto - 10 points
10. Miesto - 11 points
9. Miesto - 12 points
8. Miesto - 13 points
7. Miesto - 15 points
6. Miesto - 17 points
5. Miesto - 19 points
4. Miesto - 21 points
3. Miesto - 23 points
2. Miesto - 25 points
1. Miesto - 30 points
And watch out. One more important piece of information. In the last tournament of the Elite Series (7.3.2024) the points will be doubled.
The quest for tickets to WPT Prime Bratislava starts on November 18.
All information about what's happening at Card Casino Bratislava, the complete schedule and details about what's happening not only in poker can be found at www.cardcasino.sk or directly at the largest Slovak casino.