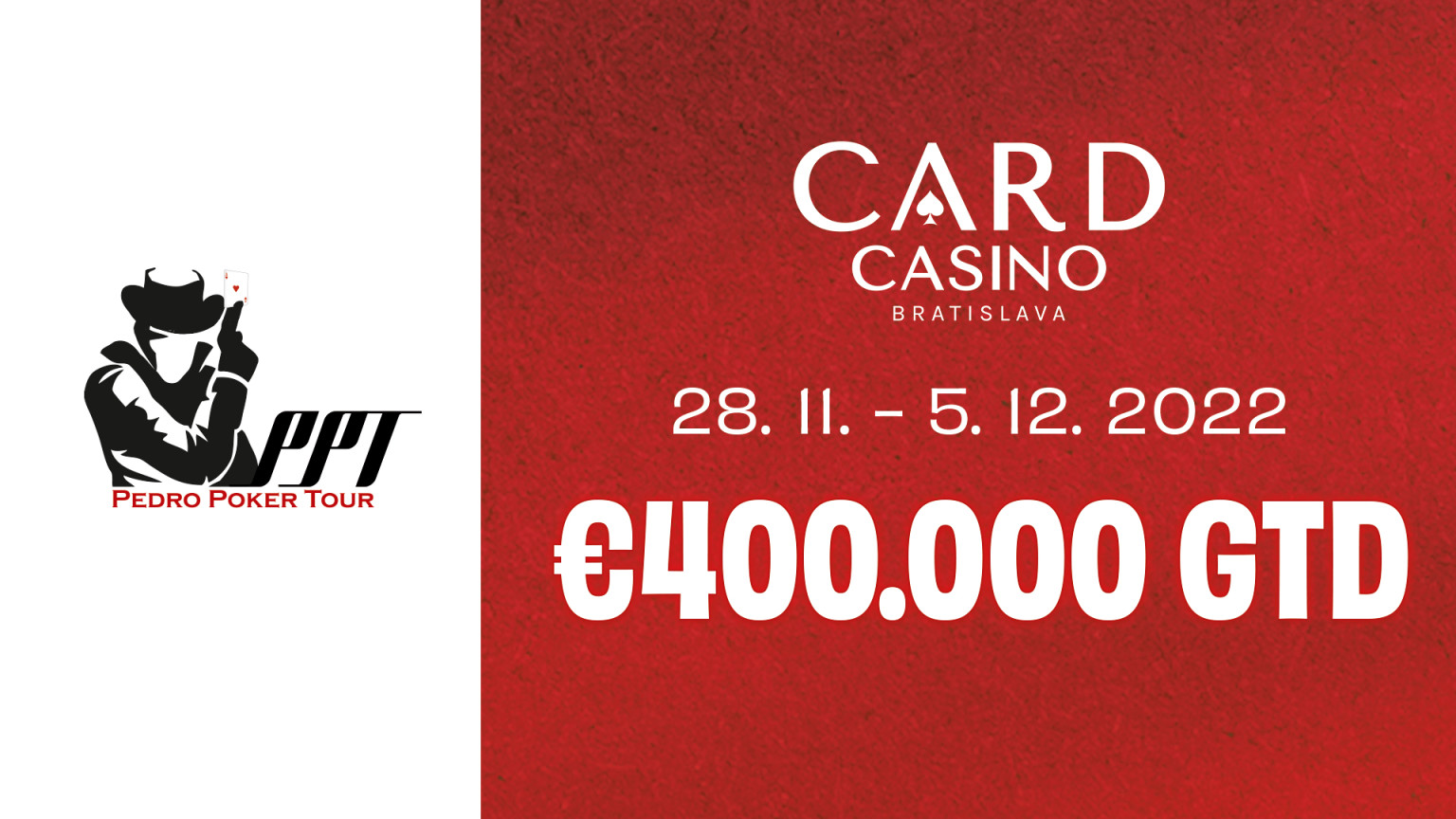 Pedro Poker Tour kicks off today with a €400,000 GTD!
Less than a month before Christmas, Card Casino Bratislava has prepared the perfect gift for poker players in the form of the exclusive €400,000 GTD Pedro Poker Festival (Nov. 28 - Dec. 5).
The whole event will kick off with the opening Satellites on Monday and Tuesday. On both days, a shuffle up and deal will ring through the casino at 19:00, with a buy-in of €40 getting an opening stack of 15,000 chips. On both Monday and Tuesday, a minimum of 10 Main Event tickets worth €250 are up for grabs.
The first of the PPT tournaments, the €100 buy-in and €5,000 GTD PLO Championship, also starts on Tuesday at 20:00.
There are several tournaments on the schedule for Wednesday, November 30. WARM-UP starts at 18:00. The buy-in is €90, the guarantee is €10,000, and players will be treated to a stack of 25,000 chips and 25-minute levels.
In addition, the next in the Satellites series, Turbo, is also playing, starting at 19:00. The casino is again guaranteeing 10 tickets to the Main Event.
In addition, a ticket to Las Vegas will be up for grabs again in the middle of the week. The first of a series of Step Satellites is on the schedule for a chance to play for the WPT® WORLD CHAMPIONSHIP. The buy-in is €110, with the top five winners receiving a €550 ticket to Step 2. The winner of the subsequent Step 3 will receive a package worth €13,000 and the chance to shine in Las Vegas!
And that's still not all from Wednesday's programme. DAY 1A of the Main Event starts at 20:00. The buy-in for the tournament is €250, the guarantee for the Main Event is €250,000! The following flights will continue in the following order DAY 1B (Thursday, 20:00), DAY 1C (Friday, 16:00), DAY 1D TURBO (Friday, 21:00), DAY 1E (Saturday, 15:00), DAY 1F TURBO (Saturday, 20:00) and DAY 1G HYPERTURBO (Sunday, 11:00).
Of course, a festival like PPT will also feature Highroller. In this case, two of them! The first one will be played on Thursday, December 1st from 18:00 with a buy-in of €1,000 and a €50,000 GTD, playing Pot Limit Omaha. Also for the Highroller there is a qualifier for players starting on Thursday at 15:00. The buy-in is €50 and the casino guarantees one ticket to the exclusive tournament.
The second Highroller, this time played in Holdem format, is scheduled for the next day, Friday, December 2, starting at 18:00. The buy-in of €1,000 and the €50,000 GTD remain, and once again there is a chance to get a ticket to the tournament via Satellit. The latter starts on Friday at 14:00.
Players can also look forward to the following events on days packed with quality poker:
PPT Myster Bounty (Friday, December 2 at 20:00, buy-in €75, €10,000 GTD)
PPT Freezout (Saturday, December 3 at 18:00, buy-in €150, €10,000 GTD)
PPT Progressive Knockout (Sunday, December 4 at 18:00, buy-in €150, €10,000 GTD)
PPT Progressive Knockout (Sunday, December 4 at 18:00, buy-in €10,000 GTD)
PPT Progressive Knockout (Sunday, December 4 at 18:00, buy-in €10,000 GTD) 12. at 13:00, buy-in €90)
PPT Big Stack Turbo (Sunday 4. 12. at 16:00, buy-in €100, €15.000 GTD)
PPT Closer (Monday 5. 12. at 18:00, buy-in €100, €5.000 GTD)
The Main Event will resume on Sunday with DAY 2 after the opening flights, culminating in the FINAL DAY on Monday from 15:00, which fans will also be able to enjoy thanks to the LIVESTREAM.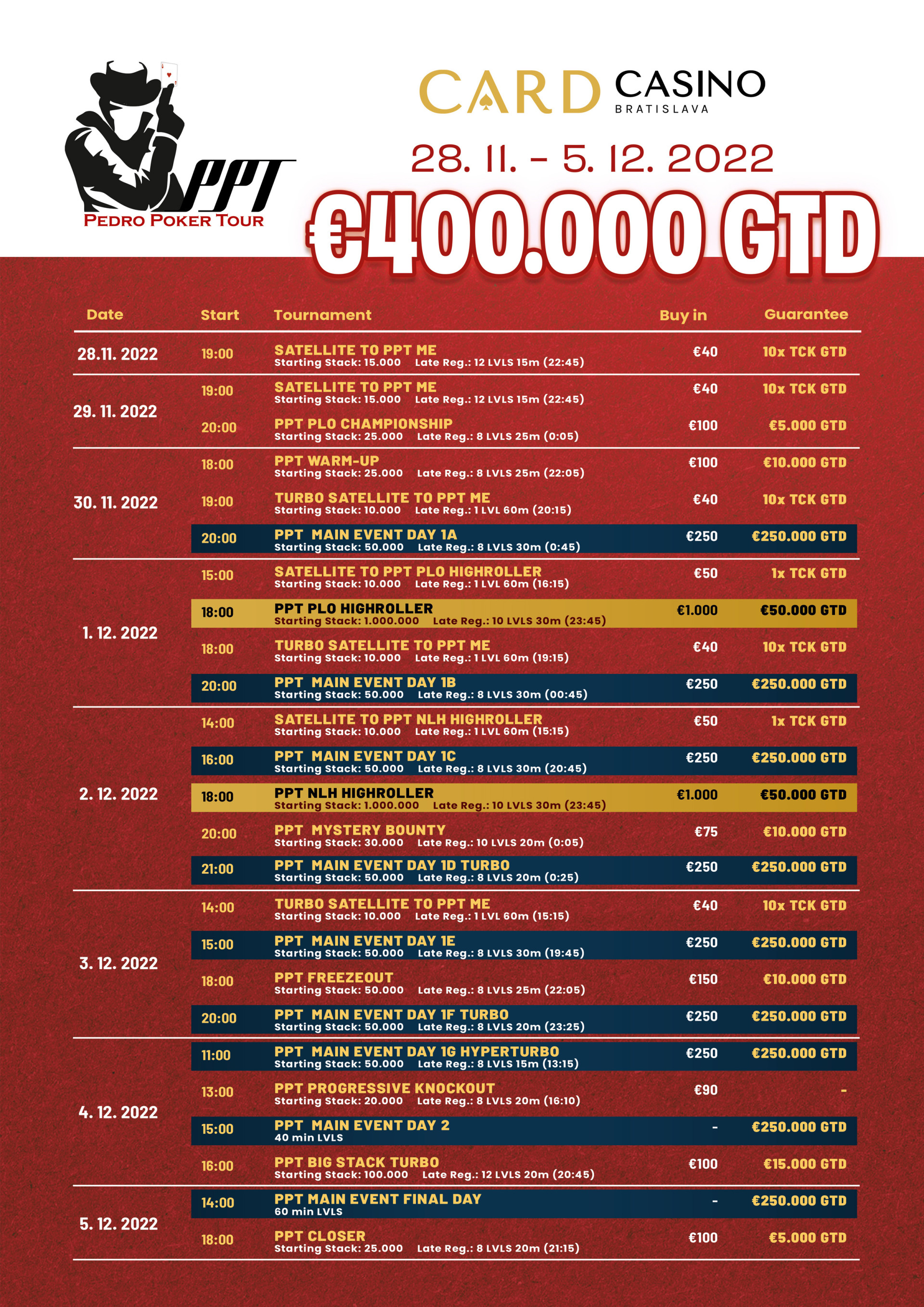 Great poker action, tempting €400,000 guarantee. That's the Pedro Poker Tour (November 28 - December 5, 2022), hosted by Slovakia's largest casino - Card Casino Bratislava.