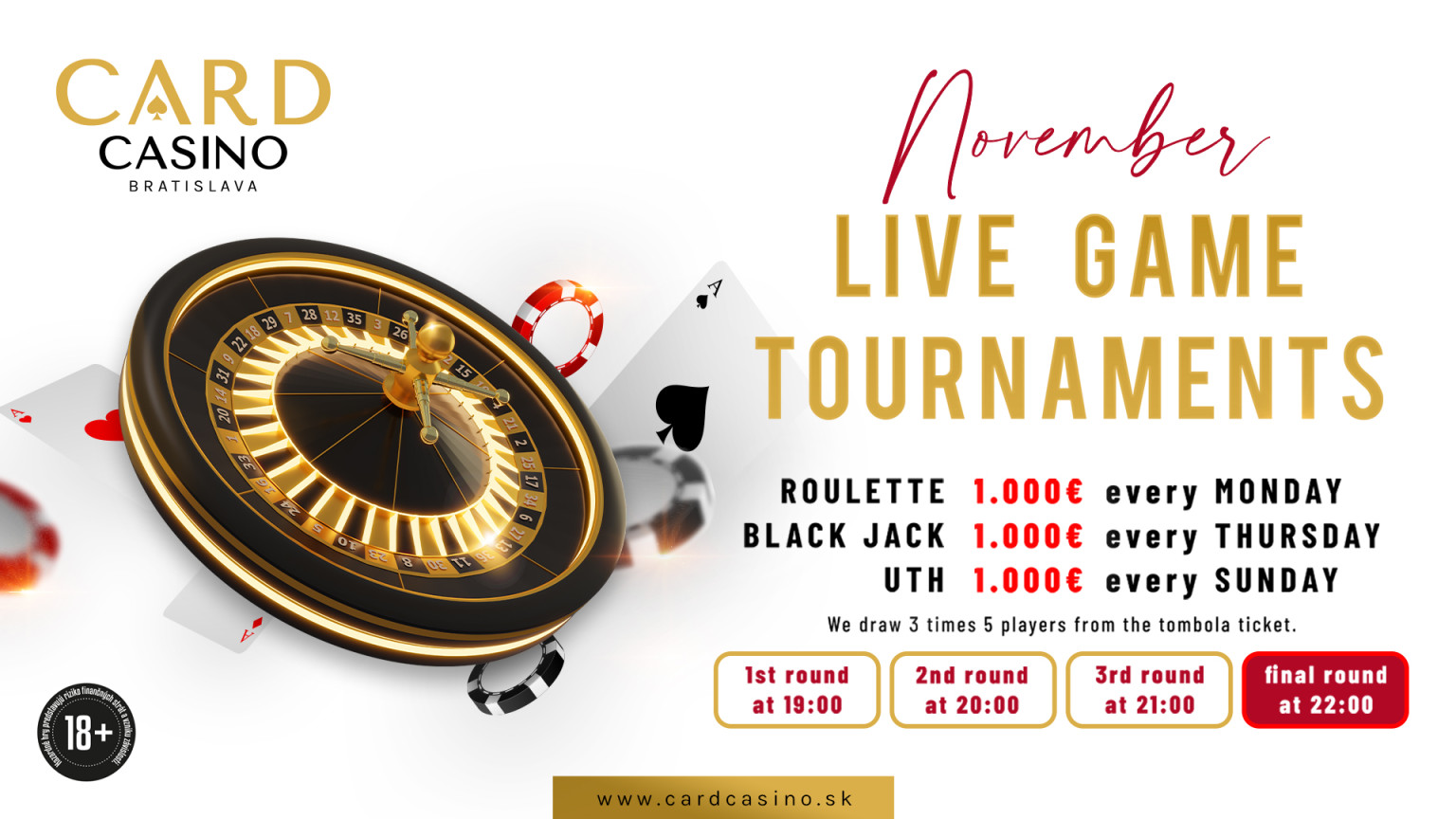 The live game will be alive with tournaments. Get ready for fun and great prizes!
November will bring action and fun to Card Casino Bratislava that will excite everyone. Live game tournaments will make sure of that, with great prizes awaiting guests.
Visitors to Card Casino Bratislava will receive raffle tickets where they write their name and choose the type of game they would like to play.
There will be three tournaments to choose from: Roulette, Blackjack and Ultimate. Guests will then drop their tickets into a raffle box from which lucky players will be drawn. They will then play their chosen tournament.
The following prizes will be up for grabs:
1st 300€
2nd 250€
3rd 200€
4th 150€
5th 100€
6th shirt/cap
And how will it be played?
ROULETTE TOURNAMENT €1.000 GTD
A roulette tournament will be played every Monday with three rounds at 19:00, 20:00 and 21:00.
In each round, 5 tickets will be drawn with the names of 5 contestants. Each of them will receive 50 colored tokens (each player will have tokens of one color). The game will be played for 5 spins, the minimum bet is 10 chips per spin.
The top two from each round will advance to the final round, advancing with their accumulated chip counts. The final is scheduled for 22:00.
BLACKJACK TOURNAMENT - €1.000 GTD
Every Thursday, visitors can look forward to a Blackjack tournament. Here too, there will be 3 rounds - at 19:00, 20:00 and 21:00.
At the start of the round, the guest will be dealt 20 chips and 10 hands will be played. The player can bet a minimum of 2 chips in a round, or even all of them. The top two players with the most chips will advance from each round. The final hand will then be played at 22:00.
ULTIMATE TOURNAMENT 1.000€
Every Sunday, the third in the series of Live Game tournaments, the Ultimate Tournament, will be played.
Again, three rounds will be played at 19:00, 20:00 and 21:00, with the finals kicking off at 22:00.
Five contestants will start, each receiving 35 chips. There will be 5 hands, minimum bet is 1pc of chips. BONUS and BAD BEAT bets are PROHIBITED, betting on TRIPS is allowed.
The top two players from each round will advance to the final round with the highest number of chips recorded.
In the final, the prizes will be distributed as follows:
The following prizes will be up for grabs:
1st 300€
2nd 250€
3rd 200€
4th 150€
5th 100€
6thshirt/cap
Great entertainment in one place. That's Card Casino Bratislava.