Benelux Poker Tour heads to Cardo with €200,000 GTD
One big festival ends, another begins immediately. Are we talking about Las Vegas? No, we're talking about Card Casino Bratislava! Slovakia's biggest casino has been going "big bombs" since the beginning of the year, which will be confirmed by the upcoming Benelux Poker Tour with its €200,000 GTD.
The period from the second half of April to the end of May can safely be described as the time of world poker in Bratislava.
Card Casino Bratislava will first host the €350,000 GTD Vamos Poker Tour, followed by the WPT, the World Poker Tour, with a €500,000 GTD Main Event.
And right after its end, on May 15, a new festival will follow - the Benelux Poker Tour with a €200,000 GTD Main Event. But what's in store for players from May 16 to May 22?
On Wednesday, May 17, the Main Event itself will begin play. The buy-in to the tournament is €250, with a stack of 50,000 chips awaiting players at the start. Blinds will change after 30 minutes. The guarantee for the Main Event is €200,000.
DAY 1A - 13 entries
Marcel Pospíšil 447 000 chips
Michael Zloczower 203 000 chips
DAY 1B - 30 entries
SAN ADEM 599,000
GONCALVES DE BRITO JOAO MANUE 407,000
BRENNAN ROBERT JOHN 274,000
ARANBAEV ALBERT 215,000
Day 1C - 27 entries
PALAN DOMINIQUE 424,000
JURIS MIROSLAV 382,000
MARIC PETER 345,000
JESKO PETER 199,000
Day 1D - 71 entries
VANDYCK GIANNI 844,000
HAVAVKA MICHAL 756,000
LANG MANUEL 664,000
VOJTEK TOMAS 294,000
NULMANS JARNE 272,000
HULIN STEFAN 243,000
BUGAR TOMAS 231,000
SVOBODOVA MARTINA 222,000
MAES JOCHEN 25,000
Flights will follow in the following order:

Friday 19. 5. DAY 1C (15:00)
Friday 19. 5. DAY 1D (18:00)
Saturday 20. 5. DAY 1E (13:00)
Saturday 20. 5. DAY 1F (18:00)
Saturday 20. 5. DAY 1G TURBO (22:00)
Sunday 21. 5. DAY 1H HYPERTURBO (11:00)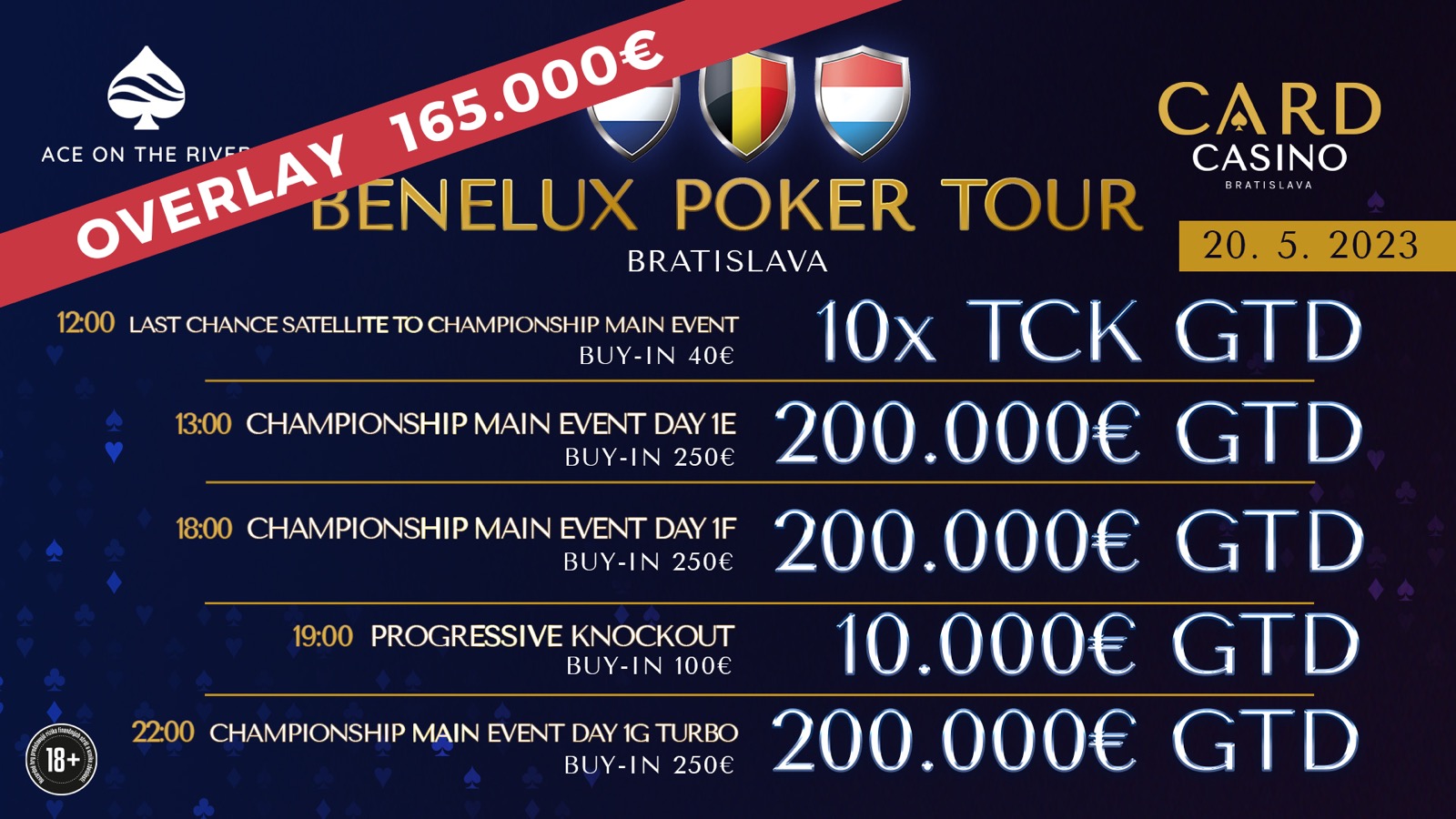 DAY 2 will then play on Sunday 21 May from 16:00, where the levels will be 40 minutes long. On Monday 22 May from 15:00 the FINAL DAY will start with hourly levels.
And what other tournaments can progressive players look forward to?
On Wednesday, May 17, the €10,000 GTD Deepstack will be played, and on Thursday
18. 5. Benelux Highroller with €20,000 GTD, and on Friday, May 19, the good old one-hit classic Freezout with €10,000 GTD. The following day, Friday 5/20, will see the Benelux Progressive Knockout with €10,000 GTD. The same guarantee, 10k, will also be available at the Benelux PLO Championship on Sunday, May 21. The last tournament will be Monday's Big Stack with a €10,000 GTD.
Now watch out! As part of the BENELUX Poker Tour Festival, DAY 1A of the MILLION Poker Festvial will also be played at Card Casino Bratislava. It is scheduled for Sunday, May 21 from 17:00. The buy-in will be €320+€30, with a stack of 60,000 chips and 30-minute levels awaiting players. The guarantee of the famous tournament is €500,000. Any player who stays in the game for the last 12,5% is guaranteed an ITM of €800 and advancement to DAY 2.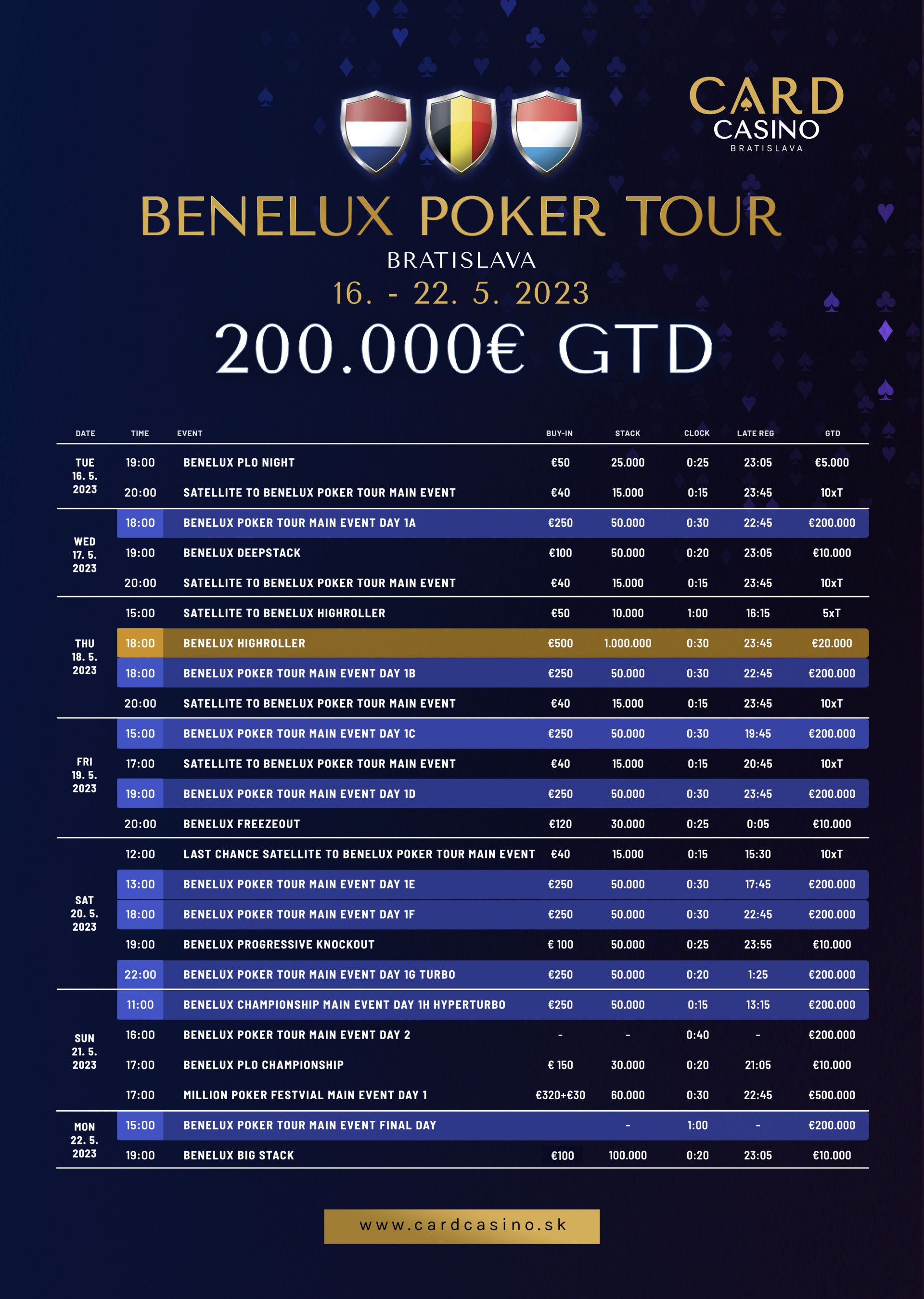 For all the information about the Benelux Poker Tour Festival, as well as to qualify for the Battle of Malta, please visit www.cardcasino.sk or contact our floors and managers.