Croatia in Card Casino. The €200,000 GTD Poker Trip Festival will take place in May!
Who wouldn't love it already. Croatia. Or if you prefer, the Slovak Sea. The land of friendly people, great food and a beautiful sea. The atmosphere of the Balkans will be transported to Card Casino Bratislava at the end of May, where the Poker Trip Festival will take place with a total guarantee of more than €200,000 GTD (May 23-29).
Almost everyone already knows that the next few days and weeks will be filled with over-the-top poker action. Vamos Poker Tour, World Poker Tour, Benelux Poker Tour. That's the schedule for the end of April and May this year. And to make matters worse, at the end of the fifth month, the Croatian Poker Trip Festival will also take place with the €200,000 GTD Main Event.
The whole event kicks off on Tuesday, May 23. First, the Satellit to the Main Event will start at 18:00, where the buy-in is set at €40. The casino is guaranteeing a minimum of 10 tickets to the Main Event.
Then, one hour later, on Tuesday, May 23 at 19:00, the Main Event starts with DAY 1A. The buy-in for it is €230. A stack of 50,000 chips will be waiting for players to start, with comfortable 40-minute levels being played from the start. Everyone who stays in the game until the end of the 12th level will advance to DAY 2.
The following days, the Main Event will have the following flights:
Wednesday 24. 5. 19:00 DAY 1B
Thursday 25. 5. 19:00 DAY 1C
Friday 26. 5. 14:00 DAY 1D
Friday 26. 5. 20:00 DAY 1E
Saturday 27. 5. 12:00 DAY 1F
Saturday 27. 5. 17:00 DAY 1G
Saturday 27. 5. 22:00 DAY 1H Turbo
Sunday 28. 5. 11:00 DAY 1I Hyperturbo
All players who qualify and advance to DAY 2 can look forward to continued poker action on Sunday from 15:00, when the blinds will be extended to 50 minutes.
The culmination of the Poker Trip Festival €200,000 GTD Main Event will be on the schedule on Monday, May 29 from 14:00.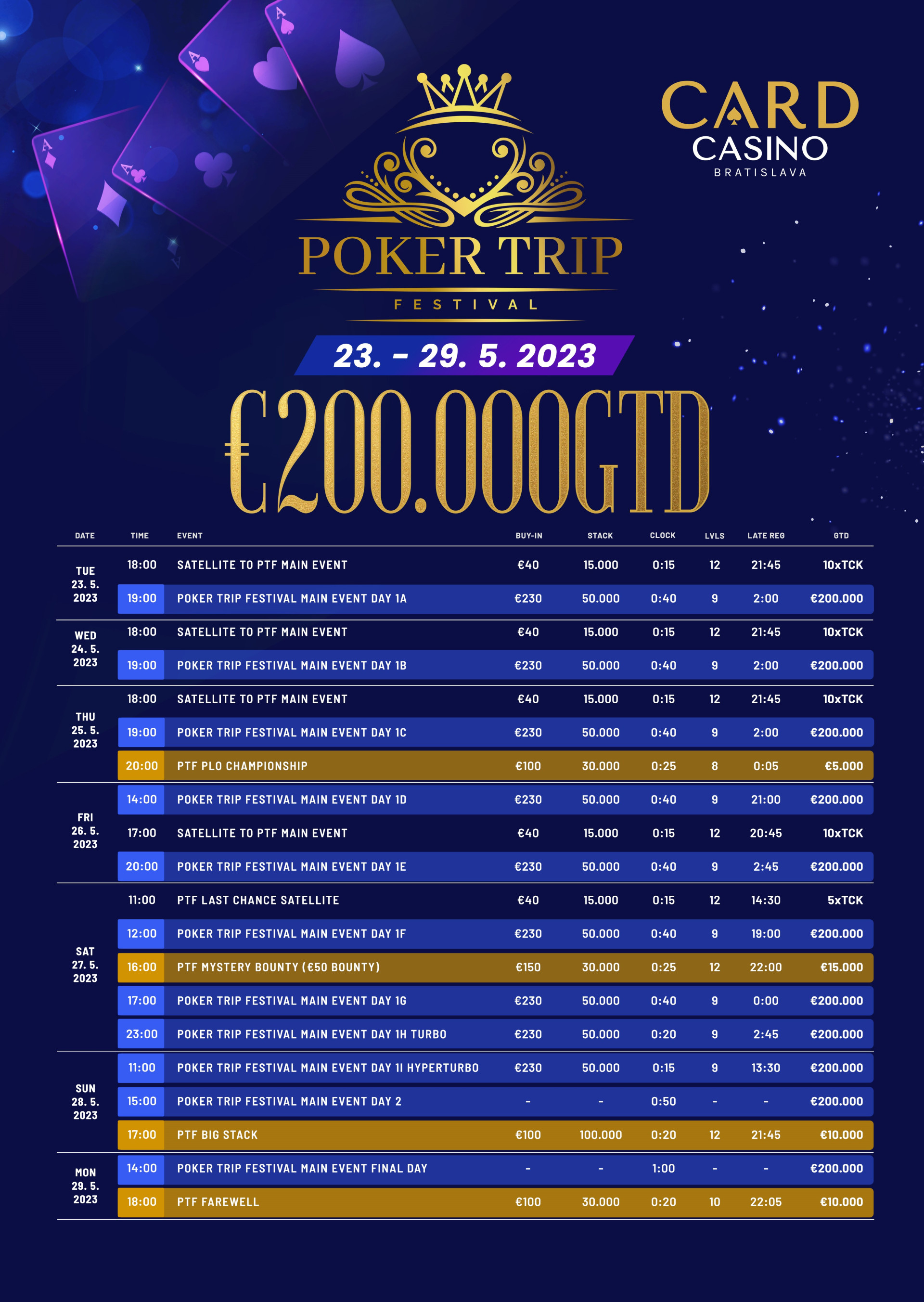 In addition to the Main Event, players can also look forward to the PTF PLO Championship €5,000 GTD, PTF Myster Bounty €15,000 GTD, PTF Big Stack €10,000 GTD and PTF Farewell €10,000 GTD tournaments during the next poker-packed week.
For all information about tournaments, festivals and events at Card Casino Bratislava, please visit www.cardcasino.sk or the casino's social media channels.