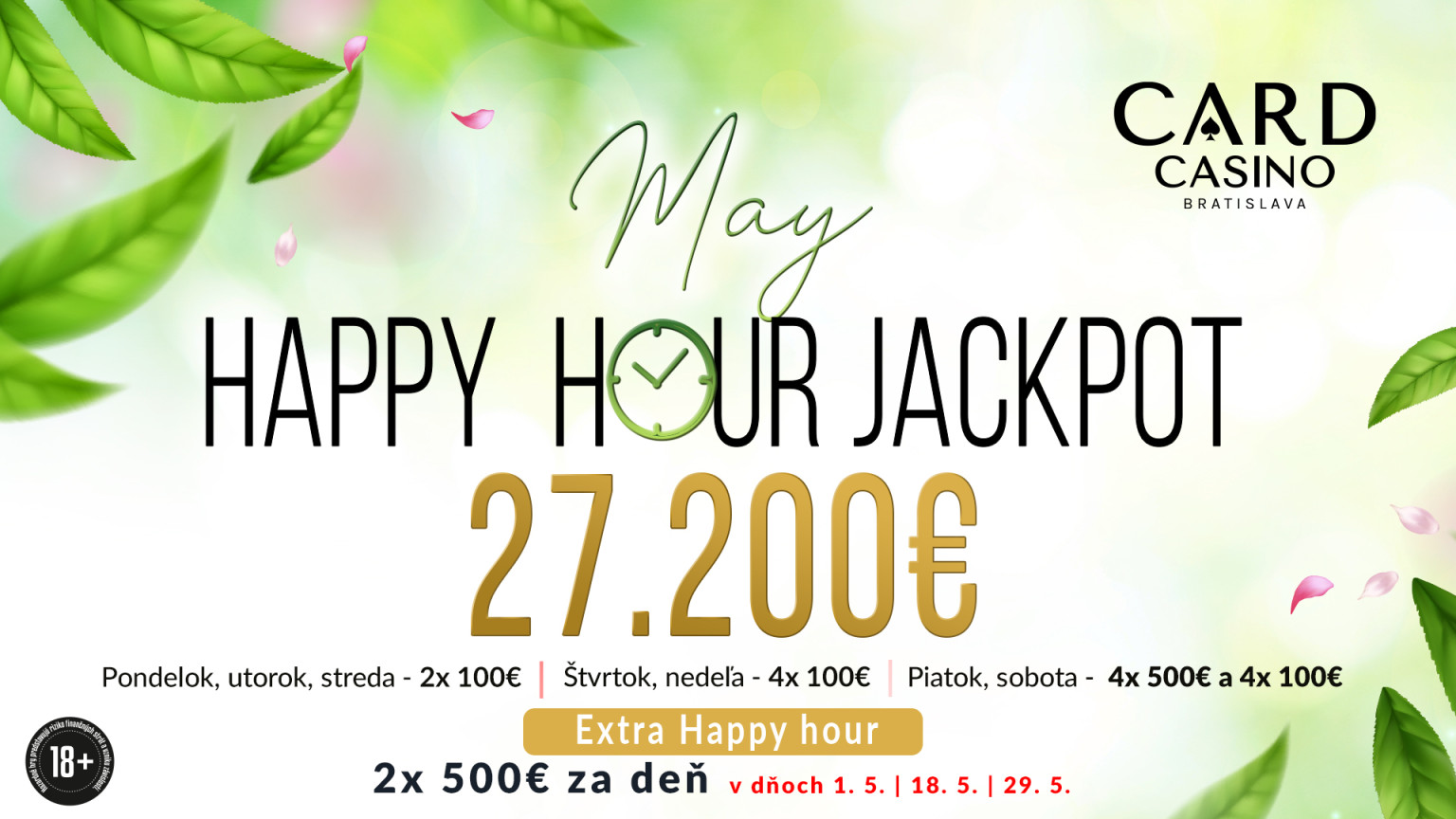 Great prizes throughout May! Redeem them with Happy Hour Jackpot
Card Casino Bratislava always has something special in store for its guests, giving them the chance to win some great prizes. In May, among other things, there are Happy Hour Jackpots worth more than €27,000 in total!
The May Happy Hour Jackpot can be won by slot players. All jackpots are active from morning till night in the fifth month of the year.
There are the main Jackpot CARD, followed by the smaller Gold, Silver, Bronze and Happy Hour Jackpots. Their value ranges from tens to hundreds to thousands of euros
The Happy Hour Jackpot has a total value of a whopping 27 200€!
Every Friday and Saturday, guests can win up to 4x€500 and 4x€100 per day. On Thursdays and Sundays 4x100€. Monday to Wednesday 2x100€.
And that's not all. Extra happy hour awaits visitors on 1.5., 18.5. and 29.5., when two visitors will receive an extra 500€.
And don't forget that thanks to Card Casino Bratislava you are in the running to win a brand new Mercedes Benz.
Whoever hits the Card or Gold Jackpot on the slots will instantly win the final ticket for the Mercedes Benz grand prize. When the Silver, Bronze or Happy Hour Jackpot is hit, the guest will receive a normal raffle ticket, from which we will then draw the winners of the final tickets.
The big draw for the new car is on Friday 30 June, when we will draw not only the owner of the Mercedes Benz, but also the winners of the prizes worth €6,700.
The raffle to win the final Mercedes tickets will be drawn on Monday, Wednesday and Sunday.
For all information about casino happenings, the schedule of events, the size of the current jackpots or what is happening at the poker tables, please visit www.cardcasino.sk.