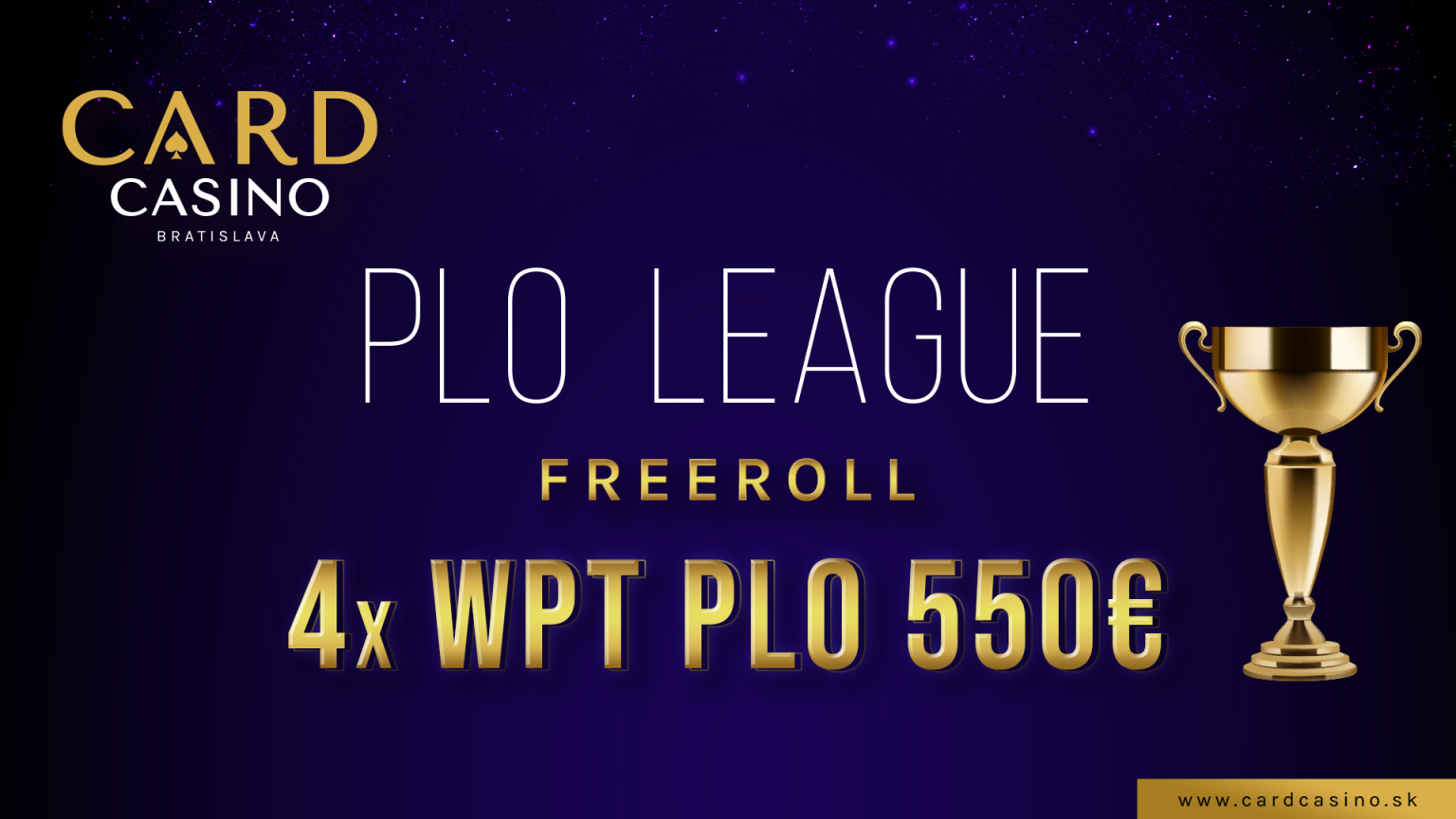 The popular PLO league continues. 4 tickets to the WPT are up for grabs!
If you like the four-round version of poker, you know that Card Casino Bratislava plays regular tournaments that count towards the PLO League. Its continuation is not missing from the schedule this year either.
From February 7 to May 2, regular tournaments will be held to determine the ranking of the best Omaha players.
The top three in the standings will be able to enjoy the reward of a WPT PLO ticket worth €550.
The remaining 1 ticket worth €550 will be awarded at random to a player in 4th to 16th place in the overall PLO league standings.
And how to get the most points for the league leaderboard?
In a €50 buy-in tournament - €4,000GTD - a player will automatically receive 2 points for entering. Then, for placing in the tournament:
9. Place - 5 points
8. Place - 7 points
7. Place - 9 points
6. Place - 13 points
5. Place - 17 points
4. Place - 20 points
3. Place - 25 points
2. Place - 35 points
1. Place - 50 points
With a higher buy-in, points will be redistributed appropriately based on the value of the buy-in versus the classic distribution.
For all information not only about the PLO League, please visit www.cardcasino.sk or contact our staff.
UPDATE 1.3.2023
| | | | |
| --- | --- | --- | --- |
| Pos. | Player | Points | Events |
| 1 | BLASKO MAREK | 74 | 2 |
| 2 | SELYEM DAVID | 68 | 2 |
| 3 | SMOLINSKY STANISLAV | 62 | 3 |
| 4 | GROFCIK MIROSLAV | 60 | 2 |
| 5 | VAVRIK JOZEF | 56 | 2 |
| 6 | GROCHAL STANISLAV | 46 | 3 |
| 7 | KOREN PETER | 43 | 3 |
| 8 | HERCEG VILIAM | 35 | 3 |
| 9 | JURASKO MAREK | 30 | 2 |
| 10 | RONSHYN MAKSYM | 30 | 3 |
| 11 | KROSBAK PETER | 29 | 3 |
| 12 | BLAHA STEFAN | 29 | 1 |
| 13 | BARTLOG MARK ROBERT | 26 | 1 |
| 14 | DESSET ANDREJ | 22 | 1 |
| 15 | BIELIAVSKYI SERHII | 22 | 1 |
| 16 | BOBAK JAN | 19 | 1 |
| 17 | BALAZ DANIEL | 17 | 3 |
| 18 | TOTH ROBERT | 17 | 1 |
| 19 | PANAK IGOR | 17 | 3 |
| 20 | SAJDAK PAVOL | 15 | 2 |
| 21 | JURGA FILIP | 15 | 2 |
| 22 | OBRADOVIC SLAVKO | 15 | 1 |
| 23 | GURIS PAVOL | 14 | 1 |
| 24 | KVASAI NIKOLAS | 14 | 1 |
| 25 | KOVACS KRISZTIAN SANDOR | 12 | 1 |
| 26 | SKALOS ANDREJ | 10 | 3 |
| 27 | HANCIN MAREK | 10 | 2 |
| 28 | SZABO ZOLTAN OLIVER | 10 | 2 |
| 29 | KATSIKAS DIMITRIOS | 9 | 1 |
| 30 | BARTOSOVA LENKA | 8 | 1 |
| 31 | PEREVOSTSIKOV ROMAN | 8 | 1 |
| 32 | SHEIKHI BOZAN | 8 | 1 |
| 33 | Lon Ondrej | 8 | 1 |
| 34 | RUMANKO TOMAS | 8 | 2 |
| 35 | HORVATH JAN | 8 | 1 |
| 36 | GOREJ IGOR | 8 | 3 |
| 37 | NAHLIK MICHAL | 7 | 1 |
| 38 | ZACHARAKIS EMMANOUIL | 6 | 1 |
| 39 | LUKACEK ALOJZ | 6 | 2 |
| 40 | RAVN TOMMY | 6 | 1 |
| 41 | SEDIVY TOMAS | 6 | 1 |
| 42 | BOZZATO STEFANO | 6 | 2 |
| 43 | FIAM LUKAS | 6 | 1 |
| 44 | TURZO ANDREJ | 4 | 1 |
| 45 | JAKUBEC RADOMIR | 4 | 1 |
| 46 | SPOT LUDOVIT | 4 | 1 |
| 47 | BUBO | 4 | 1 |
| 48 | NAGY DEZIDER | 4 | 2 |
| 49 | AZNAR JULIEN HERVE | 4 | 1 |
| 50 | KUCHARIK ROBERT | 4 | 1 |
| 51 | Keutgen Guy Rene G | 4 | 1 |
| 52 | RUCAJ JULIAN | 4 | 1 |
| 53 | HAVRA ANDREJ | 4 | 1 |
| 54 | FABOK VLADIMIR | 4 | 1 |
| 55 | KUZEL MARTIN | 4 | 1 |
| 56 | CARBONNEAUX MAXENCE ROLAN | 2 | 1 |
| 57 | BARTOLI LUCA | 2 | 1 |
| 58 | NEDELCEV TOMAS | 2 | 1 |
| 59 | ELIASSEN NILS OTTO | 2 | 1 |
| 60 | HALLO DONALD | 2 | 1 |
| 61 | JEGENI JUNID | 2 | 1 |
| 62 | HIDANOVIC SEFIK | 2 | 1 |
| 63 | RACKOVIC LUKAS | 2 | 1 |
| 64 | BALOG ZSOLT | 2 | 1 |
| 65 | Philippe Laval | 2 | 1 |
| 66 | LAUCEK PETER | 2 | 1 |
| 67 | SLAMKA RUDOLF | 2 | 1 |
| 68 | HIRSCH THOMAS KARL RICHARD | 2 | 1 |
| 69 | POP ANDRII | 2 | 1 |
| 70 | HOHR DANIEL | 2 | 1 |
| 71 | VOURLIDAKI MARIA | 2 | 1 |
| 72 | HANSEZ VIVIEN MICHEL TOUSSAIN | 2 | 1 |
| 73 | JANOSOVSKY JAKUB | 2 | 1 |
| 74 | SANTORO MARTINO WALTER | 2 | 1 |
| 75 | NUTTA MILAN | 2 | 1 |
| 76 | HUSTAVA MILAN | 2 | 1 |
| 77 | DUDAS MICHAL | 2 | 1 |
| 78 | Parnel Maxime | 2 | 1 |
| 79 | KVAK VASYL | 2 | 1 |