The tournament with the biggest guarantee is coming up. The €500,000 POKER NORTH MASTER will be played in Cardo!
Card Casino Bratislava is becoming one of the largest and most interesting casinos for players not only in the vicinity, but also from a pan-European point of view. The reason? Great poker tournaments with great guarantees. The biggest hit is yet to come, a tournament from the Norwegian NM Festival POKER NORTH MASTER with a €500,000 guarantee!
Huge interest from Norwegian players, tournament open to all. That's the short description of an event that should not be missed. There are a number of great tournaments over the two weeks, with the POKER NORTH MASTER standing out with a buy-in of €720+€80 and an amazing €500,000 guarantee! DAY 1A of the main event will be played on Thursday, March 23 at 2:00pm. DAY 1B Turbo is also scheduled for the same day at 20:00.
The same classic and turbo fling scenario will be on the schedule on Friday and Saturday, March 24 and 25. DAY 2 starts on Sunday 26 March. It is scheduled to start at 12:00. On Monday, March 27, the Grand Final is also played from 12:00 pm to crown the NM Festival Norway Main Event champion, where the POKER NORTH MASTER has the highest guarantee ever played in the country - €500,000. The Norwegian NM Festival (23.3. - 3.4. 2023) full of great poker action will bring hundreds of Nordic players to Bratislava, who will surely provide a great and unforgettable experience. This festival is not to be missed by any poker lover from Slovakia, Czech Republic, Austria, Hungary... In fact, from all over Europe!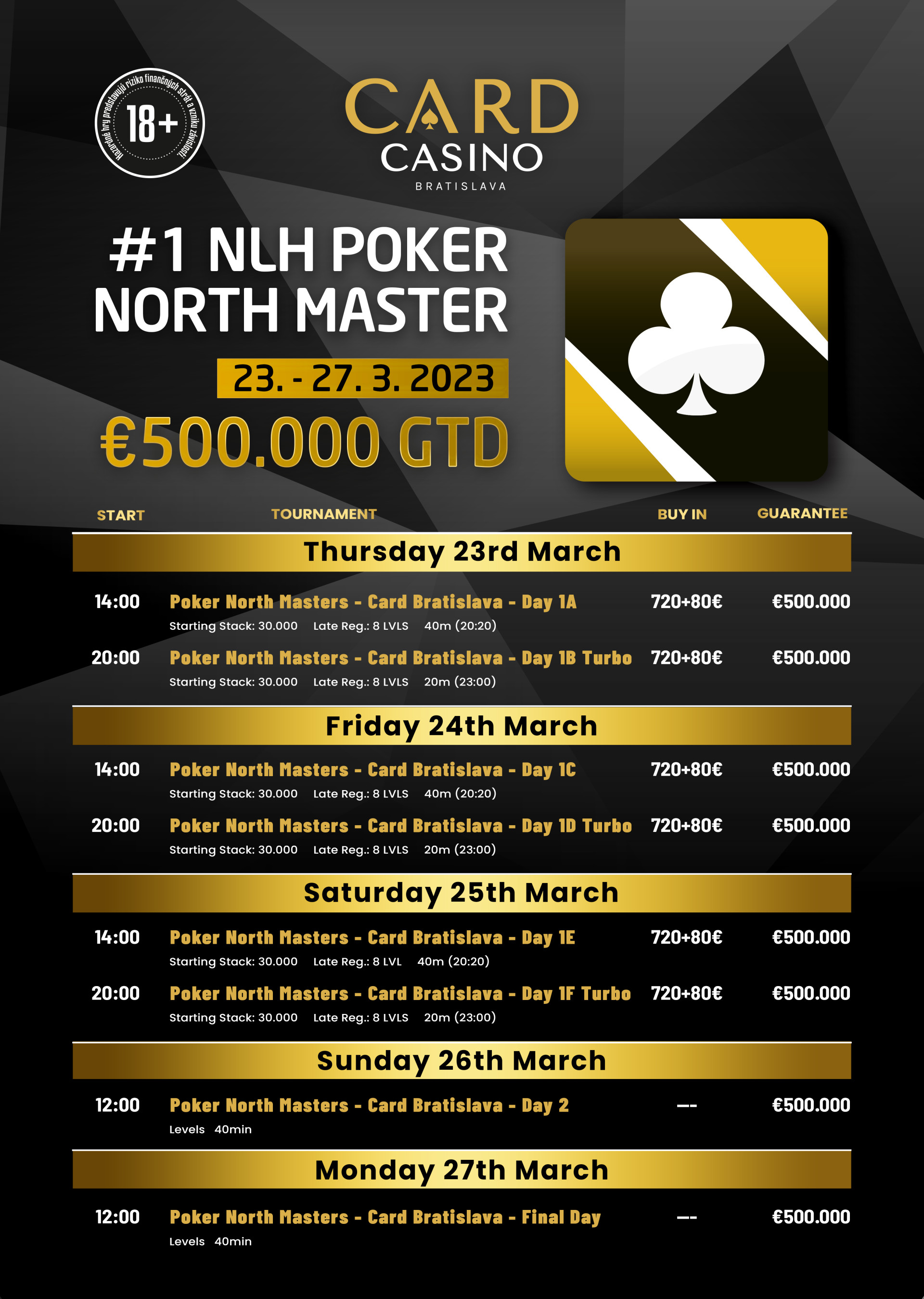 All information about what's happening at Card Casino Bratislava can be found at www.cardcasino.sk, on our social networks or from the casino staff.