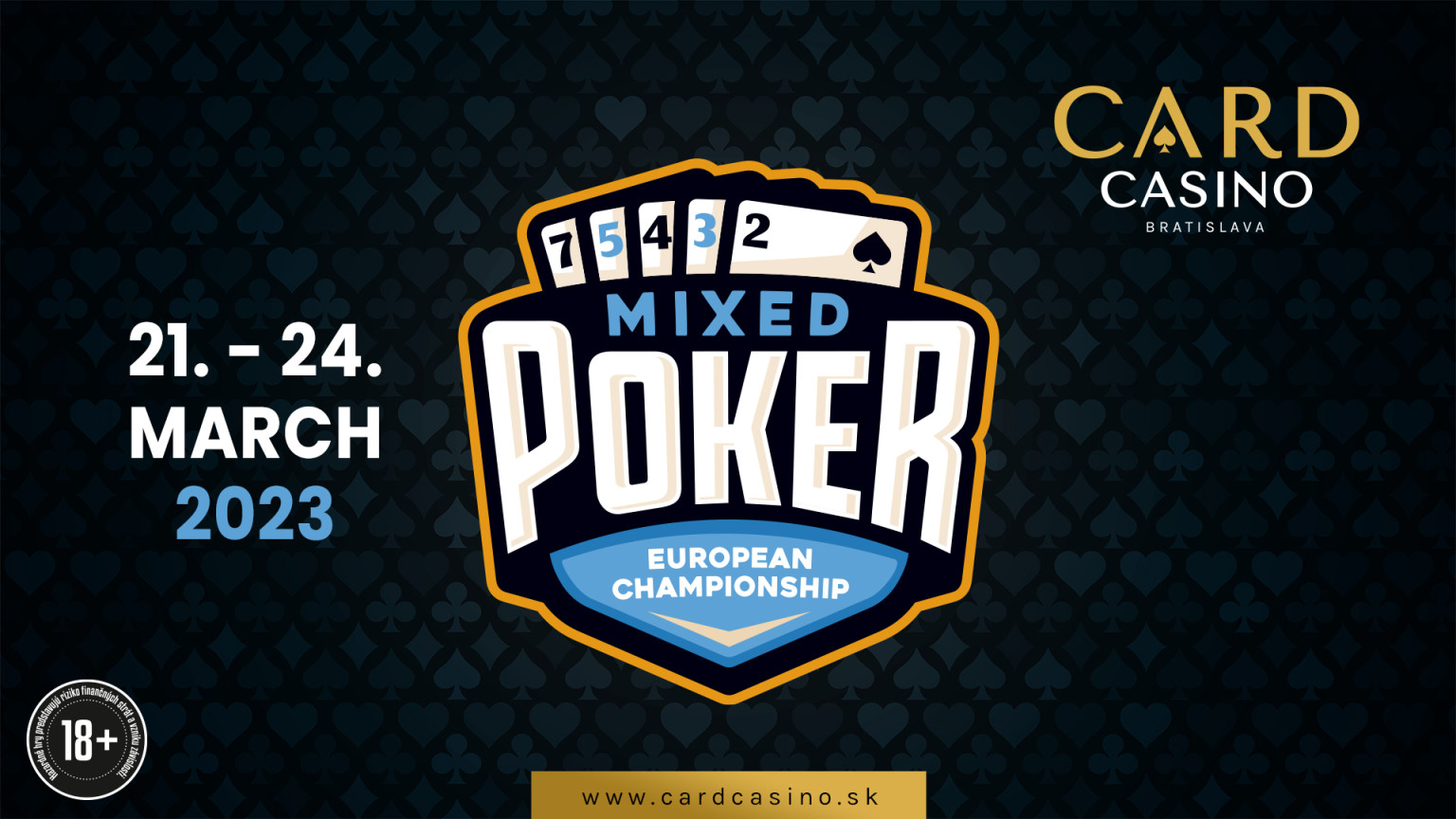 The variation of poker in all its forms. Mixed Games Championship awaits
We're just over a month away from the outbreak of a true poker frenzy under the Norwegian flag, and it's all happening at the Card Casino in Bratislava. Before the Poker North Masters gets underway, however, an unconventional festival will take place - the Mixed Poker European Championship (March 21-25). What can players look forward to?
"Mixed games tournaments are for all players who enjoy different derivative variants of poker. They are gaining more and more popularity, so I hope that we will see as many of them as possible at the tables in Bratislava," says Norwegian poker pro Tobias Leknes, who is known as Senkel92 on the online scene.
During the five days from 21 March, players can look forward to a varied and attractive programme. The following tournaments will be played:
Date Tournament Buy-in
Thursday, March 21 Welcomer Big Bet Mix €90+€10
Wednesday, March 22 Hi-Lo-Mix €220+€30
Wednesday, March 22 8-Game Main Event €500+€50
Thursday, March 23 Lowball Draw Mix €220+€30
Thursday, March 23 Dealers choice €315+€35
Friday, March 24 Sviten Special 220€+30€
And what's really behind these tournaments?
The Welcomer Big Bet Mix has the potential to be the most entertaining tournament of the year. It will be fast, dynamic and most importantly attractive. Poker variants to be played will include NLO8, 5 Card Draw, 2-7 Single Draw, classic NLH and PLO. Who will have the best variation game?
The second day will feature the Hi-Lo-Mix, i.e. Stud8 - FLO8, but most importantly the main event of the Mixed Games Festival: the 8-game Main Event. Here, too, it will be about changing games and adapting to different poker variants. Specifically, Stud - FLO8 - Razz - PLO - FLHE - Stud8 - 2-7 Triple Draw - NLH.
Dealers choice will be an equally attractive tournament. Why? Because in Mixed Games, where not every player has a handle on all poker variants, the choice will be whether to pick his favourite game or to play tactically, and although he may not be the best at his chosen variant, he may have significantly more quality than his opponent(s). There will be a choice of the following options:
NLH, FLHE, PLO, 5cPLO, FLO8, PLO8, 5cPLO8, NLO8, NL 5 Card Draw, NL 2-7 Single Draw, 2-7TripleDraw, A-5 Triple Draw, Baducey, Badacey, Badugi, Stud, Stud8, Razz.
"I can't wait for this festival. It's going to be exciting, interesting, thrilling and definitely a lot of fun. The Main Event promises a great atmosphere," says Mason Pye, one of the main faces of the Mixed Games.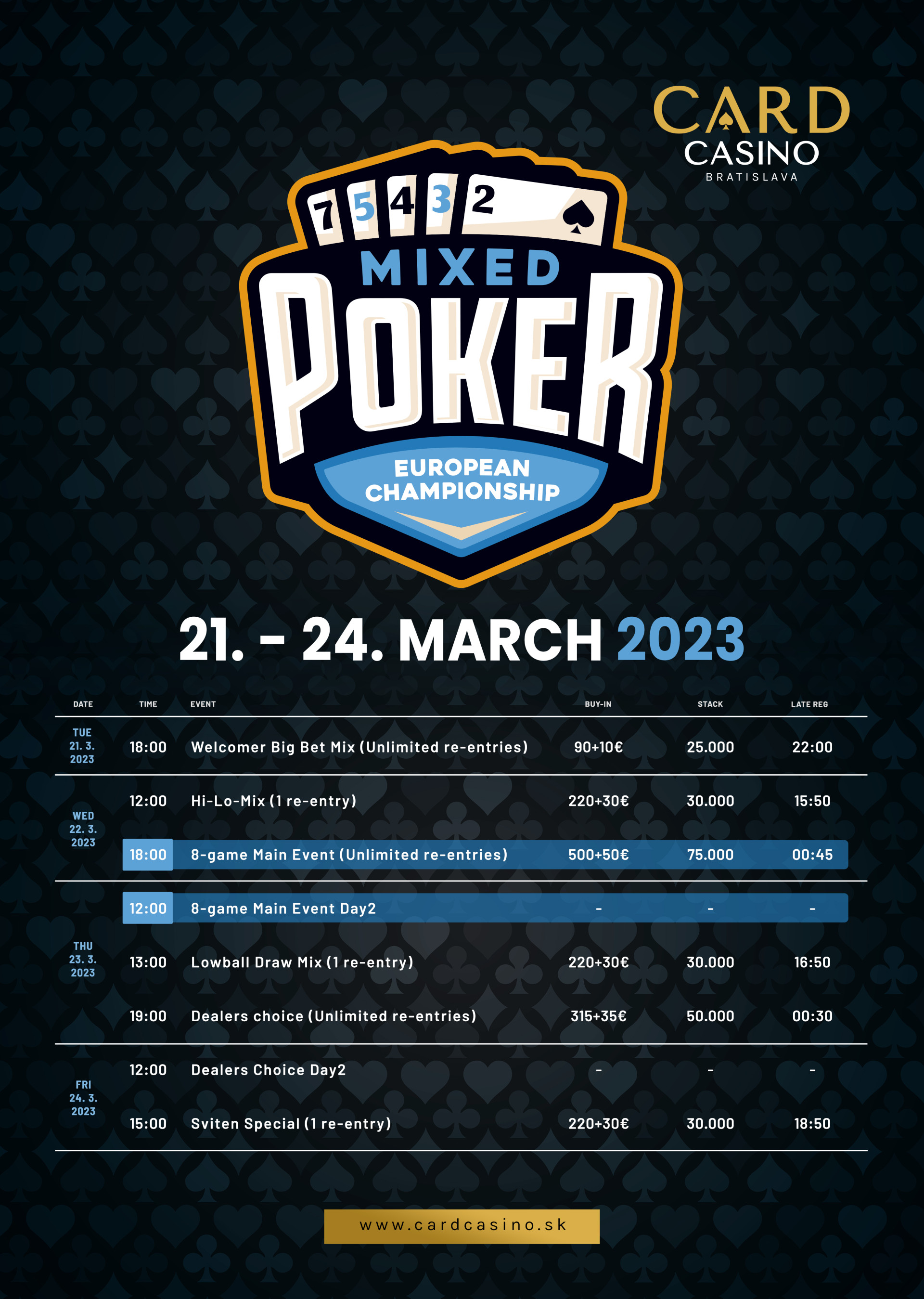 All information about poker tournaments, casino events, Card Cabaret and other events that await you at Card Casino Bratislava can be found at www.cardcasino.sk or on the casino's social networks.